Fukurokuju
customers are viewing this product

The homonym of the gourd is "Fulu" Fuli is Fukurokuju in some Asian areas
The Fukurokuju (三星 "Three Stars") are the gods of the three stars or constellations considered essential in Chinese astrology and mythology: Jupiter, Ursa Major, and Canopus. Fu, Lu, and Shou (simplified Chinese: 福禄寿; traditional Chinese: 福祿壽; pinyin: Fú Lù Shòu; Cantonese Yale: Fūk Luhk Sauh), or Cai, Zi and Shou (財子壽) are also the embodiments of Fortune (Fu), presiding over plant Jupiter, Prosperity (Lu), presiding over Ursa Major, and Longevity (Shou), presiding over Canopus. They have emerged from Chinese folk religion. Their iconic representation as three, old, bearded, wise men dates back to the Ming dynasty,[1] when the gods of the three stars were represented in human form for the first time. They are sometimes identified with other deities of the Chinese religion or of Taoism.
The term is commonly used in Chinese culture to denote the three attributes of a good life. Statues of these three gods are found on the facades of folk religion's temples and ancestral shrines, in nearly every Chinese home and many Chinese-owned shops on small altars with a glass of water, an orange or other auspicious offerings, especially during Chinese New Year. Traditionally, they are arranged right to left (so Shou is on the left of the viewer, Lu in the middle, and Fu on the far right), just as Chinese characters are traditionally written from right to left.[2]
From Wikipedia
Gallery Wrapped Canvas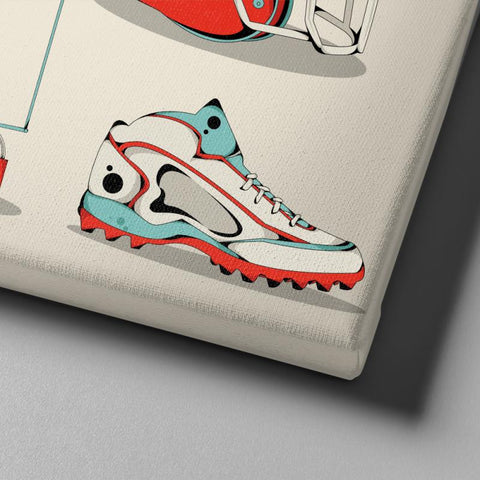 All of our artwork comes gallery wrapped. the image is stretched around the sides and stapled to the back of the wooden frame. Your piece of art will be READY TO HANG. and will include an easy-to-use hanging kit.
Floating Framed Canvas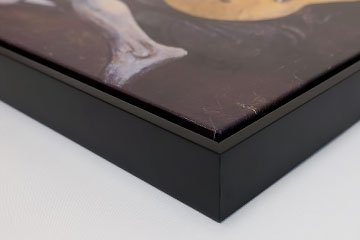 A little"armor for your art" that won't obscure the canvas. Your canvas print is gallery wrapped and mounted to a 2'' thick, elegant, black hard wood frame. the art is inset, leaving a 3/8'' space between the art and frame, creating the illusion that your art is "floating''.
Product Details
Every canvas print is hand-crafted, made on-demand at our workshop, and expertly stretched around 100% Pine wood stretcher bars. We only use industry-leading archival Epson's "Live Color GS3" Solvent Ink to achieve the most vivid and high-definition prints possible. 
Unique Features
Epson PrecisionCoreTM TFP Micro Piezo print head technology
Epson's "Live Color GS3" Solvent Ink is certified by GREENGUARD and French-VOC (A +) and meets the certification standards of AgBB and Nordic Swan.
GS3 Solvent ink can provide a better color Gamut and ensures for sharp photographic reproductions with flawless color fidelity.
Water, Fade, Scratch, Crack &Warp Resistant

High Quality 380 gsm Matt Cotton
100% Guaranteed
*Everything is HAND framed so there may be a VERY SLIGHT discrepancy between the pictured image and the final product. Rest assured we will NEVER send anything out that isn't as close to perfect as possible.
Shipping Policy
•Asia 5-7 Days
•Europe 4-8 Days
•The United States,Australia,New Zealand 5-9 Days
•Rest of the World 7-10 Days
When your orders ship, Your tracking information is automatically sent to you via mail you provided during checkout. If you have any questions about your tracking, Don't hestitate to reach us If your order hasn't shipped throughout the regular time,Please feel free to contact us ! We'll resolve any issues asap.